T.A.S x iolom x Node by KUDO SHUJI Pre-Order

Hello.
Here we are, right in the middle of Golden Week Vacation. Tokyo is warm and windy every day!
As you all might already know, GULLAM is having Pre-Order exhibition right in our store. 
Brands are…   iolom/ T.A.S/ Node by KUDO SHUJI
Today, I am here to recommend few interesting items from each brands.  Some of them are not in our shopping page, so if you are interested, click on "CONTACT GULLAM" below and let us know which one strikes your heart.
First, we have Japanese Jewelry Brand, iolom!
iolom. io-002-03.
¥15,000 + TAX
https://gullam.jp/shopping/187.html
This necklace is made out of Enamel Resin, which is a melted glass, used in traditional Japanese pottery. This can be made in 4 different colors: (from left) Blue, Green, Red, and Half Clear.  Please note that each ones are slightly different since they are all hand made. 
Next we have aroma diffuser necklace! There is a diffuser stick, which is made out of japanese wisteri, inside the brass metal cylinder to absorb the aroma oil.
Aroma oil is organic and blended by the designer himself! Comes in three different smells
#0: Mandarin & Basil #1: Hinoki & Lemon Grass #2: Hiba & Patchouli
¥25,000 + TAX
Here is a backpack from iolom, made out of Japanese Horse Leather with brass details.
¥73,000 + TAX
Second, we have Japanese leather brand, T.A.S!
This is leather covered broken dish!  This round dish is from the present. 
¥22,000 + TAX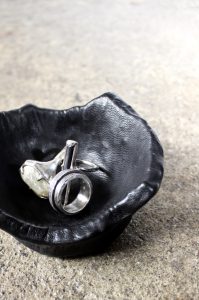 This dish is from the Jomon Period (around 8000 B.C.E. – 250 B.C.E.) , a straw rope- patterned ancient Japanese pottery wrapped with leather (OF COURSE!). One and only!!
¥22,000 + TAX
Do you think this is a stoned ring? Maybe like a moon stone? No, no, no! This is pig skin covered ring. Comes in two colors; cream white or iced black!
¥28,000 + TAX
Here is collapsible leather covered Analog Speaker.
¥30,000 + TAX
At last, we have Japanese Jewelry brand, Node by KUDO SHUJI.
Node by KUDO SHUJI P-32
https://gullam.jp/shopping/18649.html
¥36,000 + TAX
The concept of Node by KUDO SHUJI is "Wearable Sculpture". 
Bracelet: BR-11 Silver925
¥44,000 + TAX
Two Fingers Ring: R-46 Silver 925
¥50,000 + TAX
If you have any questions regarding on the items below (more photos, sizes, quality, etc.), please contact us! We will be happy to assist you!
NEWS: 
Pre-Order Sale Event (no appointment needed)
Brands: T.A.S / iolom/ node by KUDO SHUJI 
Date: April 29th, 2016 ~ May 8th, 2016
下記の期間、T.A.S / iolom/ node by KUDO SHUJIの展示受注会を行っております。ご来店、心よりお待ちしております。
日程:4月28日(金)〜5月8日(日)*水曜日は定休日になります。
REMINDER:
We are closed on Wednesday every week. 
     OPEN: Mon- Sat (Wed Closed) 12:30 – 20:00
                Sun & Holidays 12:30- 19:00