ESDE. Brücke-140. Belt. Cow Leather. Black
BRAND
ESDE
ITEM
MENS
MATERIAL
Cow Leather
COLOR
Black
SIZE
Length:約140 cm

/

Width:約2.5 cm
販売価格

[SOLD OUT]

27,500円(税2,500円)
ESDE.
Brücke-140.
Belt.
Cow Leather.
Black
Pure Patinated Brass
All hand made in Germany
ドイツの職人が手掛けたベジタブルタンニングのCOW レザーを使用したベルトになります。BRASS(真鍮)バックルを錆びさせて、味のある雰囲気に仕上げてあります。使い込めば使い込むほど雰囲気が増し、経年変化が楽しみなアイテムになります。シンプルにつけていただいたり、垂らしてお使いいただけます。
This belt is made out of German veg tanned cow leather. The brass metal parts are rusted to give antique vibes. The leather will get softer over time.  
| | |
| --- | --- |
| Length: | 約140 cm |
| Width: | 約2.5 cm |
Styling (画像をクリックしていただくと詳細をご覧いただけます。)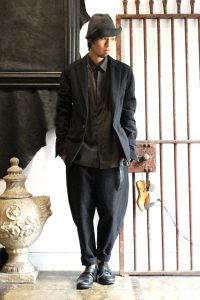 ATTENTION: 
*製品の特徴上個体差がございます。ご了承くださいませ。
*平置き寸法になります。
*実寸の寸法ですので多少の誤差はご容赦ください。
*撮影の関係上、若干実物の色と異なることがございます。
*All measurements are approximately ~ cm, measured in laying flat.
*Color in the photos are slightly different due to lighting.